2011.08.30 18:28
Urato Umi-no-ko Recovery Project and Rentai Tohoku
Rentai Tohoku has been providing consultancy services as well as human support to fishermen who are involved in Urato Umi-no-ko Recovery Project (Urato Project hereinafter) for some time. The circumstances surrounding this project are as follows.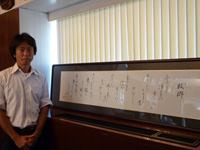 In mid April, a month after the earthquake, Yasuhiko Sata, Board Chairperson of Rentai Tohoku, saw on TV a Mr. Koizumi explaining in a halting way the establishment of "One Unit Sponsor" system. Knowing the dire situation they were in, Sata immediately tried to contact Mr. Koizumi.
On the 30th April, Rentai Tohoku held the first meeting in Tokyo for various people including disaster victims as well as well informed experts to exchange opinions. We invited Mr. Koizumi, who is a fisherman cultivating oysters and seaweeds at Katsura Island in Urato Islands, Miyagi prefecture, to the meeting. He brought Mr. Masumi Chiba, Chairperson of Urato Project, with him. Mr. Chiba explained that fishermen in Urato Islands had established a private organization, "Urato Project", aiming at raising financial backing in order to resume operation.
By then, it was several million yen that had been collected. However, through the enthusiastic call for support on the website as well as thanks to frequent media exposures, the fund raised reached 175 million yen by the 1st deadline for application on the 30th June, 2011. All involved in this project were truly moved by the warm support from all over Japan.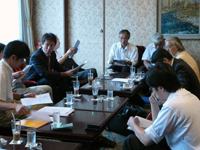 In order to resolve the tax and legal problems and facilitate the recovery of the local fishery, Rentai Tohoku provided tax, legal and management consultant services by experts. Backed up by these efforts, Urato Project has duly become incorporated as a juridical person.
By being granted as an incorporated juridical person, Urato Project has made a big step forward toward a self-support reconstruction.
As part of our physical support, Rentai Tohoku sent 4 volunteers each every weekend from mid May to the end of July, 50 volunteers in total, to Katsura Island to help beach clean-up, floater making for seaweeds farms, administrative work at Urato Project office and so on.
In a spirit of friendship and cooperation, Rentai Tohoku will continue to support the recovery of the earthquake-stricken area by collaborating with local people and valuing personal links built through our activities in many places in Tohoku.