2015.01.31 09:18
Curry Event(01/30 2015 at Kichijoji Temple, Kirikiri, Otsuchi, Johei-gun, Iwate)
On January 30th (Sat), we organised "Tomodachi Curry ®" event at Kichijoji Temple, a temple of the Soto school of Zen Buddhism located in Kirikiri district, Otsuchi. We were hoping to cheer up the local people and the temple master, Mr Eigo Takahashi and his wife.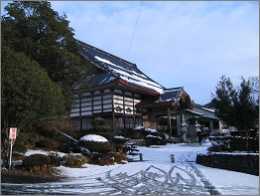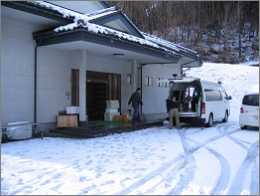 Thanks to its location on a hill, Kichijoji Temple was spared from the damage by the tsunami. Though it was not designated as a public shelter, the temple accepted people who suffered from the tsunami disaster immediately after the earthquake. The number of refugees they took in was nearly 250. The master Takahashi opened the temple to the public as a shelter and tried to keep people's morale high and maintain their physical strength. He encouraged them to follow a daily routine at the temple including clearing and laying futon mattresses and morning exercise.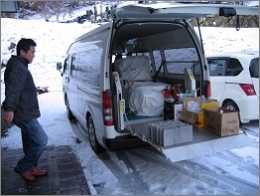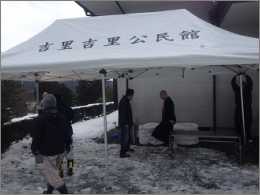 Our event venue was the meeting room of the temple which was once occupied by the evacuees. Though there was still a lot of snow on the ground from the previous night, the weather recovered by the morning and we started the preparation with no problem.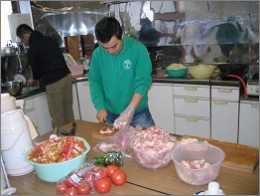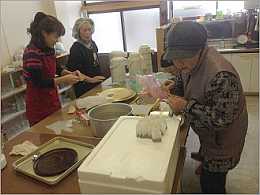 Early in the morning, Madame Takahashi and neighbours helped us prepare curry using the kitchen in the meeting room. As usual, 20 litres of fresh milk for spiced tea served with "Tomodachi curry®" was generously donated by Mr Nobuaki Sudo from Senmaya, Ichinoseki. We should remember that it was Mr Ichiro Murakami, our great co-operator and buddy who went to fetch the milk in the heavy snow the night before.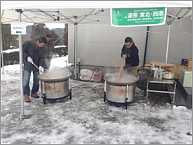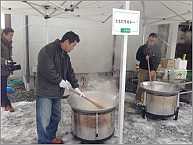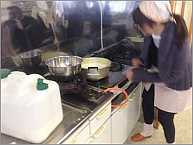 We prepared the ingredients indoors and some younger staff members cooked curry in the pot put outside. We asked the group of neighbours to prepare spiced tea in the kitchen. Delighted by the fresh milk, Madam Takahashi used her favourite honey from Zao instead of ordinary sugar to give the tea special flavour. The spiced tea was even tastier with mild sweetness of the honey.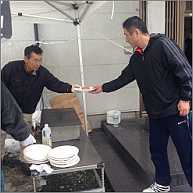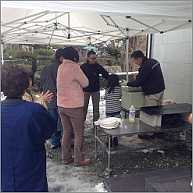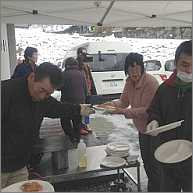 "Tomodachi Curry®" was ready just before lunch time. Usually we find it fun for guests to queue up with a plate and be served with curry from the unusually huge pot together with naan bread from the baker. However, as it was extremely cold and the ground was dangerously slippery, the staff carried food on plates to the warm meeting room where the guests were waiting.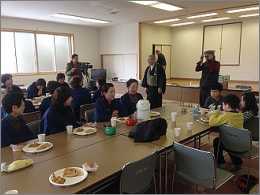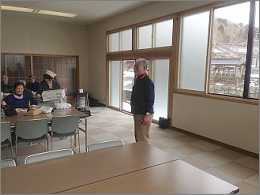 After the opening speech of Master Takahashi, our board chairman spoke about the background and the purpose of the event. With a cue from Mr Touemon Azumaya, chairman of the Kichijoji parish council, the curry lunch started.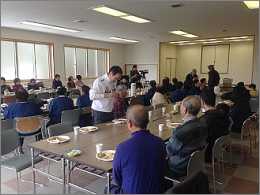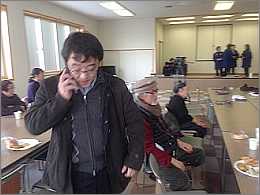 Both Mr Ikarigawa, mayor of Otsuchi Town, and Dr Hamato, a local neurologist, were also at the event. Dr Hamato was kind enough to bring us a hundred red bean pastries baked by a popular bakery in the area. The guests greatly enjoyed the yummy sweet pastries.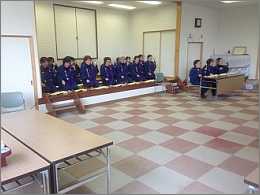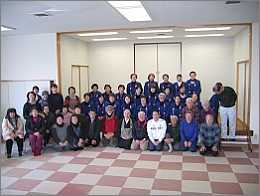 At the end of the party, the residents of Kirikiri district recited two pieces of "Goeika(※)", Buddhist doxology, for us.
※ "Goeika" is a buddhist doxology, which is a melodious chant with the words consisting of five lines and thirty one syllables based on Buddhist teaching. It is one of the religious traditional arts in Japanese Buddhism handed down from Heian era. Poems with five and seven alternating syllables and those with seven and five alternating syllables are both called "wasan" and often considered as "Goeika" even if they are not of religious nature.

Reference:
Wikipedia(http://ja.wikipedia.org/wiki/%E3%81%94%E8%A9%A0%E6%AD%8C)