2014.02.17 19:53
The Second Chinese New Year Celebration(2/16 2013 in Ichinoseki, Iwate Prefecture)
From 1 to 4 p.m. on February 16th, we held the Second Chinese New Year Celebration together with the Chinese residents, other international residents, and their families living in Tohoku at the Bellino Hotel Ichinoseki in Iwate Prefecture.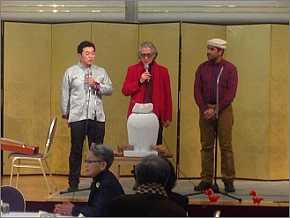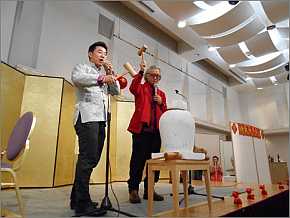 The celebration began with an opening speech by the Representative Director of our Foundation. Then we presented the 10-year-old Chinese rice wine in a jar kindly donated by Mr. Fu, the president of Kenkoh Trading Co., Ltd. in Tokyo, broke open the top and had all the participants enjoy the wine.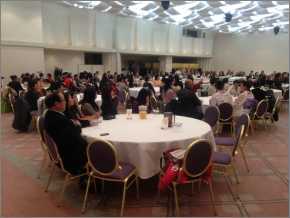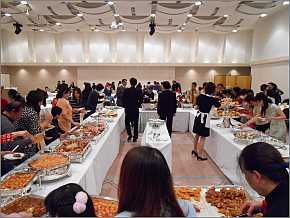 The banquet was given in a buffet style, and we asked the participants to enjoy freely.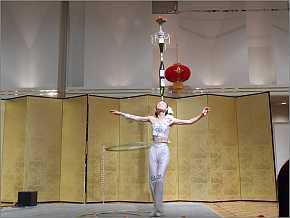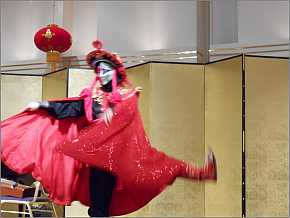 The crowd was wrapped in awe and surprise by the Chinese performers with their Chinese harp, songs, Chinese acrobatic show and mask change show.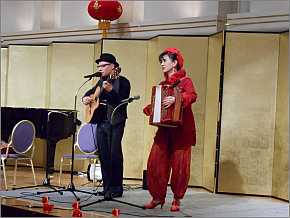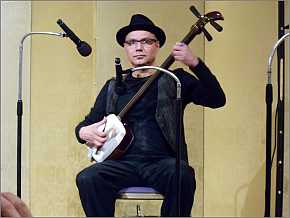 The following section of the event was entitled "Toward a Further Internationalization of Tohoku", and we invited Ms. Hiroko Ito who plays button accordion, which is a traditional instrument in France used in chanson and a type of popular music "musette", and Mr. Sylvain Diony who plays guitar and also Tsugaru shamisen, for the audience to enjoy. They came to Japan from France to perform in a concert on March 6th, but kindly agreed to cooperate to support Tohoku during their day off before the concert.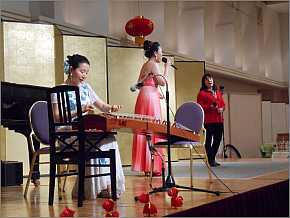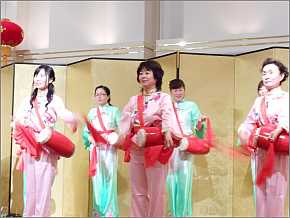 We then asked our audience to participate on stage as well. A dance was performed by the members of the Chinese club "Kakyo Kajin Doshu-kai", songs by the participants from the Philippines, and the song "Kitaguni no Haru (North Spring)" in Chinese sung by the Japanese team. The finale was the support song for Tohoku, "Flowers Will Bloom", and everyone sang together.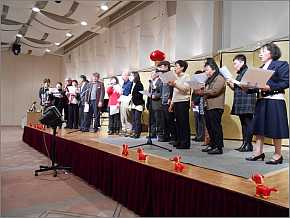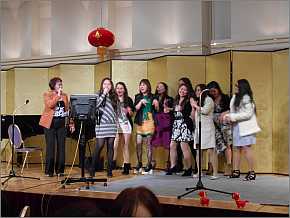 We held this celebration free of charge last year, but this year, we asked for an admittance fee of 2,000 yen per person except for children under 12 and for those who were born outside of Japan but are living in Tohoku. We took this system so that we could show our appreciation and support towards those who came to Tohoku from abroad and became wives and are supporting their families. We would like to mention that approximately 60% of the participants were the ones we wanted to show our support to.
A leader of one of the groups told us that they "appreciate having given the chance to communicate in such a large-scale event with many other groups scattered over the area." It was a pleasure to know that our event was able to present an opportunity for the groups to cross-communicate with each other. We intend to support holding large-scale events to be held with the cooperation among the groups.
The event was introduced in the Iwate Nichi-nichi Shimbun.
Article in the Iwate Nichi-Nichi Shimbun, February 17, 2014.