2012.04.20 20:03
Rentai Tohoku meeting (March 31, Kawasaki-cho, Ichinoseki)
A gathering of about 25 people was held in Kawasaki-cho, Ichinoseki, with local people who have been supporting Rentai Tohoku's activities, as well as those who participated in the Second Symposium on Self-supporting Reconstruction in Nagoya on March 11.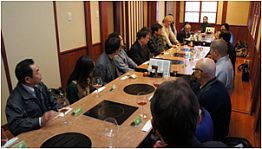 The primary school teacher who participated in the Nagoya Symposium also took part this time, and exchanged opinions with the teacher who joined us from Rikuzentakata. The discussion highlighted the fact that external parties are not fully comprehending the needs in disaster areas.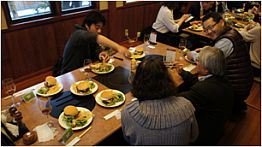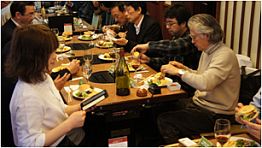 The 'Friends Burger', which was part of the menu provided to participants of this meeting, has been registered as a trademark of Rentai Tohoku and is being sold as a commercial product in local shops.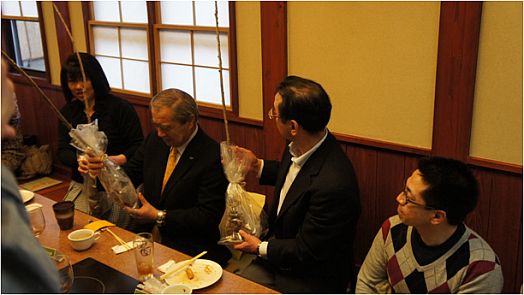 The representative from Japan Cherry Blossom Association who also participated announced a plan to donate cherry tree saplings whenever the receiving end would be ready to accept them. The representative emphasised that cherry blossoms are not only to be planted and left, but need to be subsequently supervised and therefore it is important to think in the 50-100 year time frame. It was suggested that it would be ideal to think in the direction of having residents take part in the cherry trees' supervision rather than leaving them to be managed by an authority. This time, an initial three saplings were brought and donated to three people.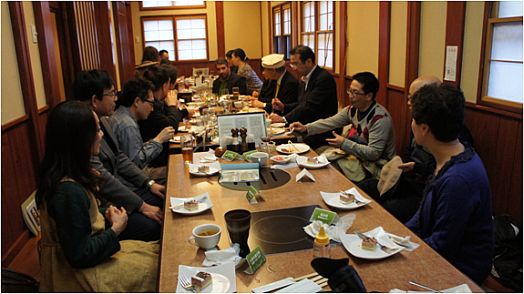 There was participation by members who released the charity CDs 'shinsei' and 'shinsei II toward the light' and there was talk of a desire to hold an event in the Tohoku area to perform and dance as a way to take a literal step 'towards the light'.
In addition, 31 March was the 40th(+?) wedding anniversary of a lady from the Minami Exchange Centre where we (Rentai Tohoku staff) regularly prepare meals. We presented a large cake and needless to say we all sampled it afterwards.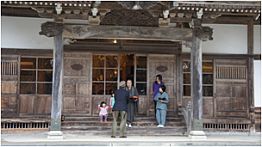 Following the gathering at Kawasaki-cho, we visited the temple of the chief priest who joined the Nagoya Symposium, and in the main hall we heard about the history of the temple.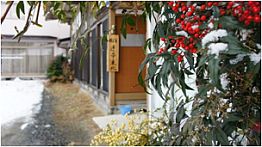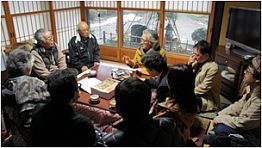 Through supporting the Tohoku area we feel like we have been made a part of the family. We must extend our activities to the world, through encouraging each other. We hope that our activities can provide some support to the hearts of the people of Tohoku.