2013.04.14 12:50
Curry Event at the Rikuzentakata City Hall (April 11th, 2013 at Rikuzentakata City Hall, Iwate Prefeture)
On Thursday, April 11th, we provided Tomodachi Curry® free of charge at the Rikuzentakata City Hall in Iwate Prefecture, to support the City Hall staff.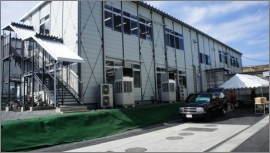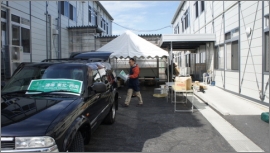 There has been 1,556 deaths and 218 missing (as of Dec. 31st, 2012) in Rikuzentakata City due to the Great East Japan Earthquake, suffering the most in Iwate Prefecture. After more than two long years since the disaster hit, the city is still far from making a recovery. Hearing that the staff at the City Hall has been working very hard toward recovery though they themselves are victims, but are still haunted by the feeling of despair, we planned and carried out this curry event to convey the message of gratitude and encouragement.
While Rentai Tohoku-Seinan has been holding curry events mainly at temporary housing complexes, this is the second time for us to hold an event at a public institution, following the first one in May last year at Hirota Primary School in Rikuzentakata. Our objective until now has been to encourage the residents living in temporary housings and to cheer them up, and as such we had asked the victims of the disaster to join us in preparing the curry. However, this time the objective was different, and since we only had a limited time available to arrange everything, we did preparation the day before and minimized what we had to do at the City Hall.
We prepared the curry at Minami Exchange Center in Senmaya-cho where we are kindly provided with the use of the facility every time. Even though we planned beforehand and made preparations, there were unexpected shopping, etc. happening, and as a consequence we did not have the number of staff available as scheduled. As such, we asked the local residents of Senmaya-cho to assist us.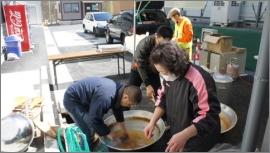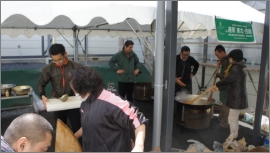 When we provided Tomodachi Curry® free of charge to encourage the children and their families at the sports festival held at Hirota Primary School in Rikuzentakata, Iwate Prefecture last May, we became friends with Keisuke, who is in fifth grade. From there, we went on to hold a lunch party event providing curry again on Tanabata (the day of Star Festival), Saturday, July 7th, at a nearby temporary housing complex where he lives (Temporary Housing Complex 2, Okubo, Hirota-cho, Rikuzentakata). There, we became friendly with his mother, and when we told her of the latest event, she kindly offered to help even though she was a victim herself, and came to the City Hall from early morning.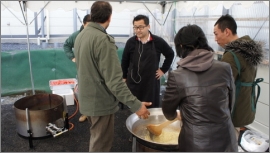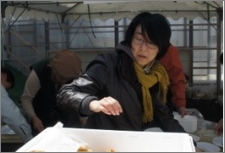 Mr. Chiba, who owns a yakiniku (barbecue) restaurant Kakunoshin in Kawasaki-cho, came to help us with his staff Mr. Oyama from early morning as well, despite of their busy schedule with the upcoming opening of a new restaurant. Mr. Sato, the priest from Fujisawa-cho whom we are friends with, also came to help us before noon. Mr. Onodera from the Rotary Club in Senmaya-cho could not be with us on the day of the event, and so he kindly sent us free of charge 36 kg of chicken meat. There was also Marie from the U.S. who joined us after volunteering in Minamisoma, and assisted us from the day before with the preparation.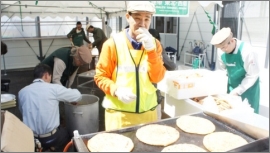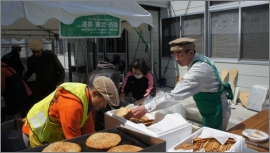 Mr. Isao Aoki of Yugen Kaisha Aoki Shoji, lent us a professional-use teppan-yaki frying griddle to bake naan, which was very helpful and speeded up the preparation.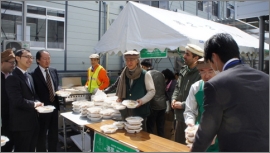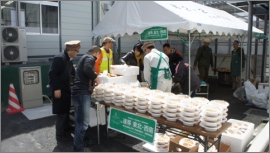 In our previous curry events, we had been serving curry directly from the pot at the venue. However, because this time we had to efficiently serve within the limited amount of time available for lunch break at the City Hall, we chose to prepare the curry and naan in packages beforehand and hand them out. We couldn't pack all of the 300 servings necessary, and had to ask some people to wait. However, we were all relieved to have successfully handed out all 300 servings after about 15 minutes since our start at noon.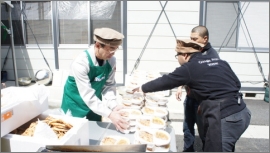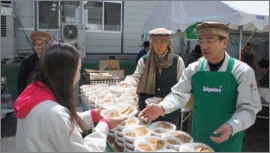 Mr. Sugawara, the mayor of Hiraizumi, started supporting Rikuzentakata soon after the earthquake in cooperation with Ichinoseki and Fujisawa by setting up a joint support headquarters and providing vehicles, large quantities of water and food, man power, and accepting evacuees. He was deeply touched to see the mayor of Rikuzentakata work tirelessly for the citizens, despite having lost his wife and becoming a victim himself. With such an experience, Mr. Sugawara has been of great support to our activities, and came to help us at the venue before noon in between his official duties. We sincerely appreciate his smiles and efficient work.
The staff at our Foundation was surprised to hear from our Representative Director that we would be holding an event to comfort and encourage the City Hall staff. As the purpose of our activities is to support self-reliance, we would of course like to encourage the City Hall staff members who are all working day and night to support the self-reliance of the citizens, but our fundamental wish is for the victims themselves to swiftly recover a positive mind strong enough to join us in our activities. Our thoughts were reinforced when the City Hall staff said afterwards, "Please don't let this be a one-time event."
The curry event was reported in the Iwate Nichi-Nichi Shimbun, below.
Kitade, Noboru
Rentai Tohoku Seinan Staff
Article in the Iwate Nichi-Nichi Shimbun dated April 13th, 2013