2013.09.29 12:58
Curry Event at the Asupia Festival (09/29 2013 at Mizusawa Community Exchange Center Asupia, Oshu, Iwate Prefecture)
On Sunday, September 29th, we provided Tomodachi Curry® at the Asupia Fetival held at Mizusawa Community Exchange Center Asupia in Oshu, Iwate Prefecture and took part in the revitalization effort of the area.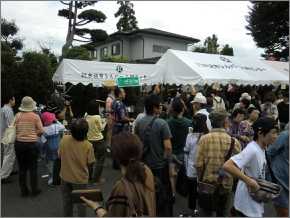 This festival has been held since 2001 to better inform the public of the activities of Asupia, and for the users of Asupia to get to know each other even more. We had the opportunity to provide Tomodachi Curry® at this festival thanks to Mr. Tsuyoshi Sato, the president of Oshu International Relations Association.
We were asked to provide about 200 servings, and Tahir and Ms. Lee prepared the night before at our base site in Senmaya. Mr. Keishi Onodera, the president of the Rotary Club in Senmaya, kindly provided approximately 30 kg of poultry free of charge.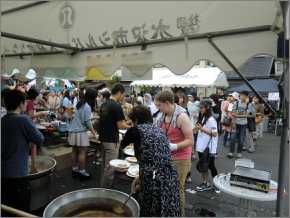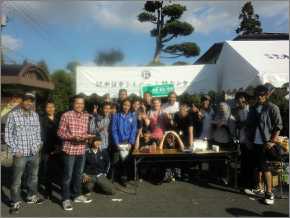 Just two staff at the festival site was not enough, so Mr. Daigo Fujinami from the Oshu International Relations Association kindly arranged volunteers of three men and a woman to assist us. It was a great help and our work proceeded smoothly.
Tomodachi Curry® was very well received by everyone at the Asupia Festival. Upon request, we served it for a fee and not free of charge, and we made a little over 60,000 yen for one day. We would like to take this as a donation to Rentai Tohoku-Seinan and intend to give back to the residents in the afflicted area through our future activities.
This was an opportunity to join the event through our relationship with the Oshu International Affairs Association, and it would be an honor if we have been of some help in the revitalization effort of the area.