2022.07.31 07:21
Koto Concert and Dinner Party with Local Residents (July 29, 2022 at Senmaya International Club, Senmaya Town, Iwate Prefecture)
From 6:00 p.m. on Friday, July 29, at our base Senmaya International Club, we hosted a concert by koto (Japanese harp) player Ms. Miho Yamaji, in which she played five pieces of music ranging from 200 years ago to the present day. During the day, ceremonies and events were continuously held from the morning; however, the beautiful performance by Ms. Yamaji made everyone feel at peace. We would like to express our heartfelt thanks to her for coming from Okayama to Iwate and presenting wonderful performances many times.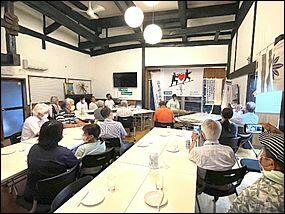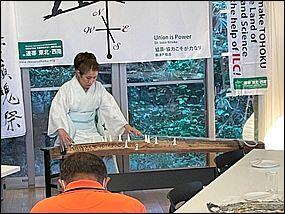 From 7:00 p.m., we held a dinner party attended by about 32 guests from local communities. For this party, we requested Mr. Lee Shuei, a Chinese cuisine chef at Tokyo Prince Hotel, and his friend Ms. Fon to cook healthy dishes, which were a fusion of the food from their home countries, Taiwan and Vietnam. For the dishes, plenty of tomatoes and peppers were used, which were offered by Mr. Ikuo Takeyama, who set up a Dutch-style hydroponic farm in 2016 in partnership with local farmers, and everyone enjoyed the delicious taste.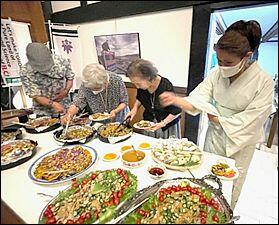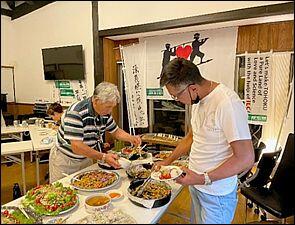 We also invited Mr. Yuichi Yonezawa, his wife and his daughter Tae, from Rikuzentakata City, Iwate Prefecture, to the dinner party. On the day of the March 11, 2011 earthquake, Mr. Yonezawa evacuated to the rooftop of the three-story reinforced concrete building where he ran a packaging supplies shop. However, the tsunami soon reached there, so he climbed the chimney and had a narrow escape from death. In the meantime, his parents and younger brother fled to the shelter right next to the building and sadly, never came home. In his speech at the party, Mr. Yonezawa spoke as follows: "I feel chagrined at this tragedy, but I believe my wife and Tae survived in exchange for my deceased family members. Tae, born in the year of the earthquake, turned 11 years old this year. Please come and visit the building which saved my life; I put a sign indicating the tsunami water level on it. I am willing to guide you around at any time."
The party was also attended by Dr. Hiroyuki Iwamoto, who runs a neurology clinic in Senmaya Town, and his family. Dr. Iwamoto said that he became friends with Syed Tahir, a member of our foundation, and their friendship mentally saved him very much, and he was thankful to him. Mrs. Iwamoto also gave her speech. She told us that her hometown is Kamakura, and when she started living in Iwate, she felt a distance from her hometown; around that time, she heard about our foundation's activities related to Minamoto no Yoshitsune and felt a curious coincidence.
With this dinner party, once again, we deeply appreciated the connection with local communities and had a strong sense that we would like to continue such a dinner party that would allow us to interact with local people in the future.