2014.10.13 05:28
Tomodachi Curry® Event (10/12 2014 in Tokuda district, Fujisawa-cho, Ichinoseki, Iwate Prefecture)
On October 12th(Sun), we served "Tomodachi Curry®" at the harvest festival held at "Fureai Kizuna Suiden Gambatta(Rice Paddies Gambatta for Strong Community Bonding)" and shared the delightful time in harvesting our own food together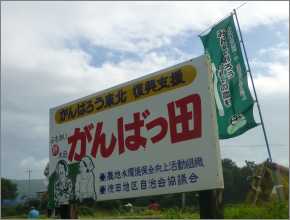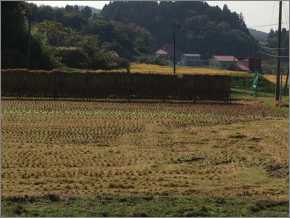 Council houses for employment-boosting in Tokuda district are now used as temporary houses for those affected by the Great East Japan Earthquake in Kesennuma and Minamisanriku. In June this year, the residents in these temporary houses and local people got together and planted the Gambatta rice paddies and here came the time to gather crops. This year is the 4th year for locals and evacuees to harvest rice together.
Introduced by Mr Hiroshi Senda, the chairperson of the Fujisawa-Town Neighbourhood Community Association, we provided Tomodachi Curry® at the harvest festival last year as well. This year, we were requested to serve curry for about 100 people. It was very generous of the event organiser to provide us chicken and vegetables for the curry.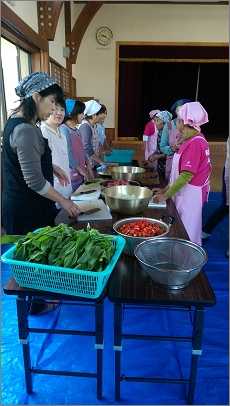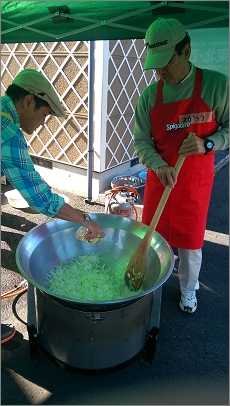 At the event site, thanks to the people of Fujisawa Town who helped us making curry, the meals were ready nice and quick. The pot keeper was Mr Masayoshi Sugawara, the former town mayor of Hiraizumi Town, who came all the way from Hiraizumi with his wife to give us a hand.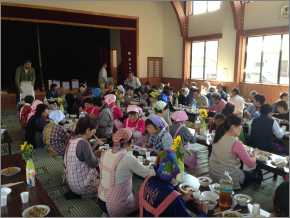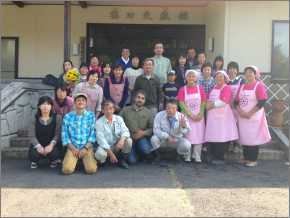 After finishing the harvest, about 100 people gathered at the event site and started to have lunch. Apart from our Tomodachi Curry®, many local people brought home-prepared food and we all had a great time.
This was the second time for us to join the festival. Before the meal, we were given an opportunity to introduce our activities as Rentai Tohoku Seinan. Hopefully we could let people know more about what activities we are being engaged in the disaster affected areas, especially why we serve Tomodachi Curry®. Through this event, we hope that we were able to help strengthening friendship between disaster victims and local people in some way.