2014.06.22 22:08
Interview with Mr. Yonezawa, Yonezawa Shokai CEO(6/21 2014 Yonezawa Shokai, Rikuzentakata, Iwate Prefecture)
On Saturday, June 21st in Rikuzentakata, Iwate Prefecture, we had a chance to speak with Mr. Yuichi Yonezawa, CEO of the company Yonezawa Shokai.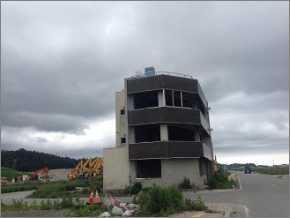 He had been running a packaging goods store in the center of Rikuzentakata until the day of the Earthquake, March 11th, 2011, and now he continues his business in a temporary store.
During the Symposium of Self-supporting Reconstruction "Toward the light" held on March 11, 2014 organized by our Foundation, it was mentioned that "it seems that the removal of the affected buildings and ships of the area is being considered for psychological reasons, but if people wish the memories of the disaster to be linked to the safety of the next generation, then those hurtful things are specifically the ones which need to be preserved." Mr. Yonezawa himself decided to keep the building where he barely escaped death from the tsunami for the next generation.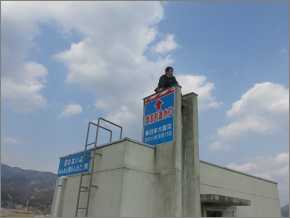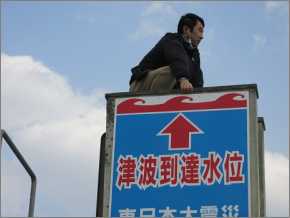 On March 11th, 2011, the day the Earthquake hit, Mr. Yonezawa evacuated on to the rooftop of a three-story steel-reinforced building. However, the tsunami even reached where he was, and he only just survived by climbing on the chimney part of the building. Sadly, his parents and brother who escaped to a different place could not make it.
Mr. Yonezawa put a sign saying "water level of the tsunami" on the chimney where he was saved, with hopes that the disaster would not fade away and that no lives would be lost when the next tsunami comes. He says that as someone who miraculously survived can do now is to live a full life each day, without leaving any regret, and keep promises made with others no matter what.
A new Rikuzentakata Station is to be constructed near the building Mr. Yonezawa owns, and from the side of the tracks, the town itself is planned to be raised up eight meters high. However, Mr. Yonezawa's building is outside this designated area and fortunately, for the time being, it will be able to stay where it is.
We shall keep Mr. Yonezawa's wish in our hearts.