2013.06.23 09:08
Curry Event (June 20th 2013 at Iwate Prefecture Otsuchi Hospital Temporary Clinic in Otsuchi, Iwate Prefecture)
On Wednesday, June 20th, we provided Tomodachi Curry® at Iwate Prefecture Otsuchi Hospital Temporary Clinic free of charge to encourage the staff.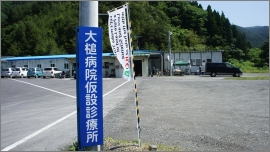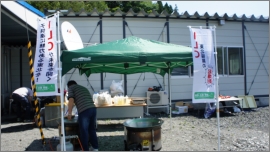 Otsuchi Hospital (60 beds), a prefectural hospital in Otsuchi, Iwate Prefecture, was completely destroyed by the tsunami which engulfed up to the second floor of a three-floor building. A temporary clinic was built a month and a half later but there is no inpatient facility, and the extent of its capacity is to treat outpatients. There seems to be a plan to rebuild a hospital ward which can house 50 beds including a treatment room and a full testing system, but the completion of the facility is 2015 at the earliest when the breakwaters along the coast is scheduled to be completed.
The plan of rebuilding the hospital ward aside, there also is a problem whether or not sufficient staff could be secured. Even before the Earthquake, there were only three full-time doctors, all in the internal medicine department. The hospital was maintained by accepting part-time doctors from other hospitals for departments such as surgery or ophthalmology. As such, the 66-year-old hospital director, Dr. Chihiro Iwata, continues to work saying "I cannot quit until there is a certain prospect in sight." We prepared and held this curry event to thank Dr. Iwata and his staff for their efforts and also to encourage them. Mr. Masaru Sasaki, the senior manager and chief of Head Office was most helpful in preparing this event.
Rentai Tohoku-Seinan had been holding curry events mainly at temporary housing complexes, and this was our first experience at a clinic. As with the events at the Rikuzentakata City Hall and Hiraizumi Town Hall, our time was limited so we did our preparation the day before, and minimized what we had to do on the day of the event at the venue.
The preparation was done at Senmaya Minami Exchange Center. Since it takes about 2.5 hours by car to get to Otsuchi from Senmaya, where we have our base of the Foundation, we left Senmaya Minami Exchange Center at an early hour of 6 AM and headed toward the Iwate Prefecture Otsuchi Hospital. It had been raining the day before in Otsuchi but cleared up on the day of the event and we were able to start preparing in a fine weather.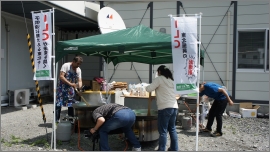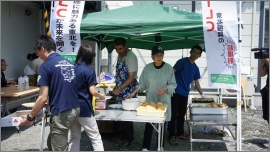 Though the staff were limited this time, everyone worked efficiently and we were able to serve Tomodachi Curry® within the time available. Ms. Lee who had joined us from a few of our previous events was there to help us from the preparation stage, and was very active in her work on the day of the event as well. Mr. Keishi Onodera, the president of the Rotary Club in Senmaya, again was generous to offer 12 kg of poultry free of charge. Mr. Hideo Sato who owns a dairy farm collected fresh milk early in the morning, and provided this milk for the chai free of charge.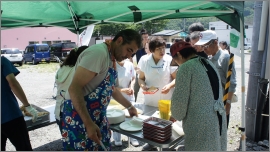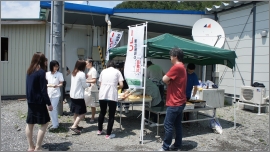 Initially we had planned to provide Tomodachi Curry® to 70-80 people, but the number greatly exceeded to a total of approximately 120 people, with residents from nearby temporary housings and patients joining in to enjoy the dish. We first served Tomodachi Curry® with naan on the usual flat tray we use, and used trays with lids for the residents from the temporary housings which was a little confusing to some, but we were glad when everyone had their own curry.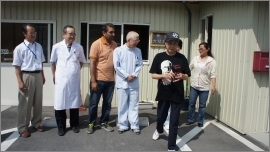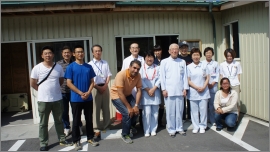 After everyone had enjoyed their Tomodachi Curry®, we served chai using fresh milk. By the time we had finished cleaning up and were ready to leave, the hospital director Dr. Iwata kindly said "Thank you for planning such a fun event.", and we all posed for a group photo. Dr. Iwata is a great doctor who supports community healthcare, and it was a moment we felt that he is sincerely admired by the local residents.