2015.04.13 09:27
Curry Event (4/12 2015 at Nikkori Sunpark Temporary Housing Complex, Ishimonaki, Miyagi)
On April 12th (Sun), we cooked and served "Tomodachi Curry ®" and spent some friendly time with the residents of Nikkori Sunpark Temporary Housing Complex, which is located in Jusanhama, Kitakami, Ishinomaki, Miyagi. Approximately 300 people (150 households) are currently living at the complex.
It had been severe icy weather till the day before the event but it was sunny and warm on the big day. Lively children crammed around and watched us cooking curry with great interest. They timidly started to give us a hand and eventually everyone joined in the cooking.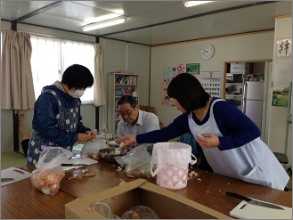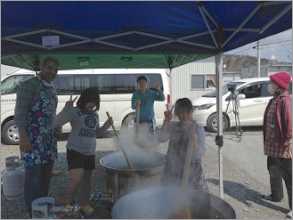 We started the preparation in the meeting room of the complex early in the morning with help from a group of residents. As usual, with the purpose to break the ice among the participants by friendly conversation during preparation, Taher requested them to join us. 10kg of chicken was offered for free by Mr Keishi Onodera, a member of the Rotary Club of Senmaya, Iwate.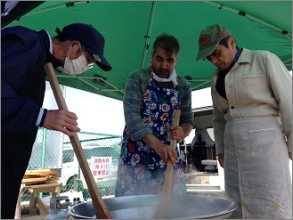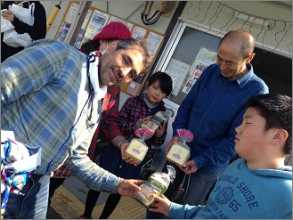 Mr Asawaka, managing director of Maruki Medical Systems Inc. and Mr Kodera, a former staff of the company, joined the curry cooking. They brought tasty sweets, which we enjoyed immensely.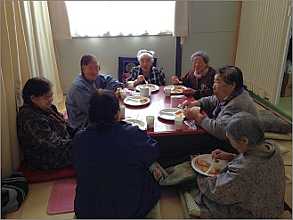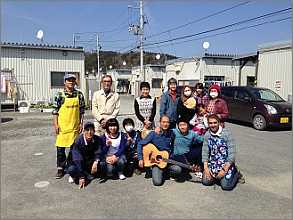 We prepared naan bread instead of rice to serve with curry upon the request from the guests. They also loved the spiced tea we made after meal. As ever, 20 litres of fresh milk to make tea was generously donated by Mr Nobuaki Sudo from Senmaya, Ichinoseki.
After lunch, one of the residents sang some songs playing guitar and we truly had a good time.