2014.10.25 13:44
Breakfast Gathering (10/25 2014 at Former Senmaya Junior High School Emergency Temporary Housing Complex, Ichinoseki, Iwate)
On October 24th (Fri), 2014, we organised the 4th Symposium on Self-Supporting Efforts with Ms. Mieko Osanai as a guest speaker. Taking advantage of the opportunity to meet the famous scriptwriter in person, we also held a breakfast gathering for people currently living at Former Senmaya Junior High School Emergency Temporary Housing Complex on the following day (October 25th, Sat).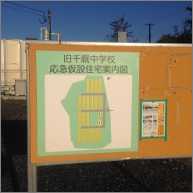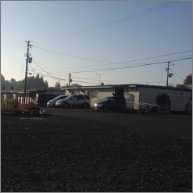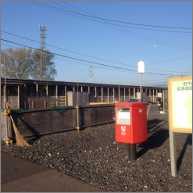 Though our volunteer activities are based in Senmaya district, Ichinoseki, we had never had a chance to organise an event at this Emergency Temporary Housing Complex so far. This time, however, we gained an acquaintance with Ms. Yuri Nagasawa, president of Senmaya Community Revitalisation Confederation, and with her kind cooperation, we were able to make one happen.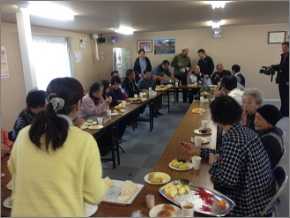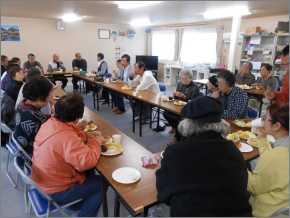 We served sandwiches and fruits for breakfast which Sakaiya Confectionary and Konkin Glossary shops of the local Senmaya shopping street kindly offered at specially reduced prices for the gathering. They sympathised with our efforts and helped us cheer those who are living at temporary houses. We are grateful for their co-operation.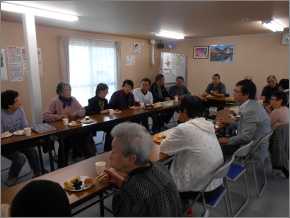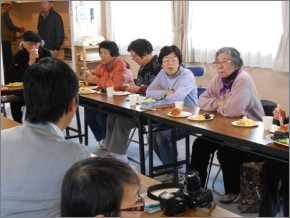 Due to limitations of time on the part of Ms. Osanai, the breakfast gathering was rather short. However, many participants came to the venue earlier than the planned opening time and appeared to enjoy conversation in a relaxed atmosphere. We were pleased to have a lovely time and great conversation with everyone.
Though the Housing Complex is in Senmaya, it belongs to Kesennuma-City, Miyagi and the residents are also from Kesennuma. According to the participants, there are other temporary housings in the area where people from Kesennuma are living. However, personal exchanges seem to be non-existent.
Therefore, hoping to help them a little boost their self-support efforts, we are now planning "Tomodachi Curry®" event on December 6th, to offer an opportunity for the residents of these temporary housings to interact with each other.
We wish the best of health and luck for the people at Former Senmaya Junior High School Emergency Temporary Housing Complexes.