2013.10.20 13:24
Participating in the NUMA FES 2013 (10/20 2013 in Kesennuma, Miyagi Prefecture)
On Sunday, October 20th, we provided Tomodachi Curry® at the NUMA☆FES 2013 (festival) held in Kesennuma, Miyagi Prefecture, and took part in the event.
This is a reconstruction assistance event held in Hongo, Kesennuma, and has been held since 2011 when the Earthquake hit. We participated in the 2011 event, and this was our second time to join in.
We were given the opportunity to provide Tomodachi Curry® at the event thanks to Mr. Keishin Kurosawa, the president of Kabushiki Kaisha Hakku, a company in Kesennuma. When we took part the first time, we provided curry and boiled dumplings free of charge, but this time we proceeded with our preparations with a request to provide the curry for a fee.
With a goal to provide 300 servings, we prepared the night before at Senmaya International Club (SIC). As it was meaningless to simply bring the curry all ready to serve, we only did the basic preparations as we do with other events, and did the actual cooking all at the site. We asked the organizer of the festival to allow us to come to the site at 6 a.m. and start our work.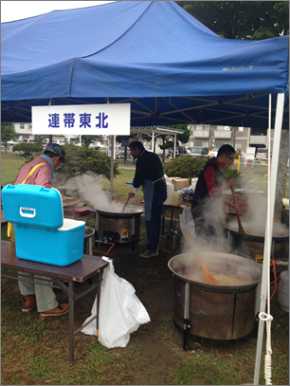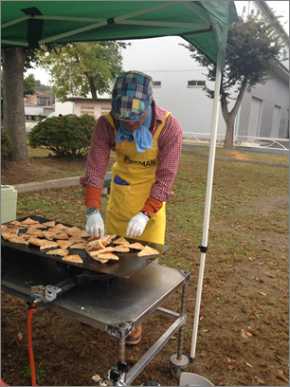 It had been raining since morning on the day of the event, and was also the coldest day of the season. So we used more spice than usual and made our curry hotter so that the guests could warm up.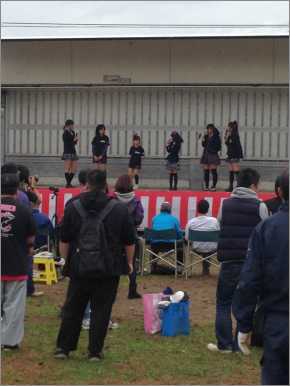 There were live performances by SCK Girls (local idols of Kesennuma), Lamp Shade (Jazz Band from Kesennuma), and Ikumi Kumagaya, (artist from Kesennuma) at Nakayachi Park where the event was held. The guests enjoying the performances in the rain under umbrellas, and went to the vendor booths afterwards and seemed to enjoy their lunches.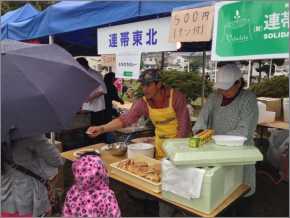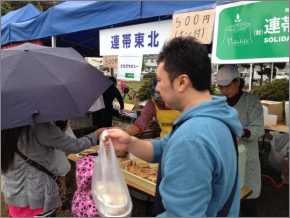 At the event site, there were vendors selling Kesennuma local goods, Korean food, and also a vendor from Senmaya, and Tomodachi Curry® was well received by the guests. As it was requested that we provide the curry for a fee and not free of charge, we would like to take the sales we made as a donation to Rentai Tohoku-Seinan and intend to give back to the residents in the afflicted area through our future activities.
The initial festival, the NUMA☆FES 2011 was the first event where we provided our curry, and was the starting point of our curry events. Although we were not able to participate in last year's event due to our schedules, we are very happy to have been able to participate this year on the third annual event, and to have been of some help in the revitalization effort of the area.