2013.01.25 10:40
Recovery Festival(Sunday November 25th at Oshima, Kessennuma City, Miyagi Prefecture)
Rentai Tohoku Seinan Staff, Tahir here.
At the request of the Kesennuma Social Services Committee, we assisted in the Recovery Festival which was held on the 25th of November at Oshima, Kessennuma City.
Oshima is an island situated about 25 minutes by ferry from Kessennuma. This festival was for residents from three temporary housing estates: Oshima Junior High School Ground, Oshima Holiday Village (recreation ground) and Shinodaira Ground. It was very lively.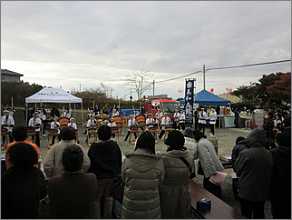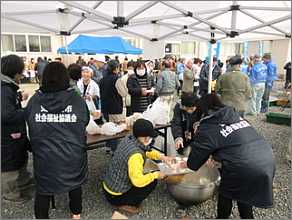 At this festival, we, together with friends who came from Nagoya, provided hot chai to the participants.
In July this year we held tea gatherings at the community hall of each of these three housing estates in order to help solve the problem of lack of communication among residents. In addition, at these gatherings, the residents enjoyed folding origami that was provided by members of the social services committee. As a result of these previous events, we felt the participants were in a very relaxed mood in general.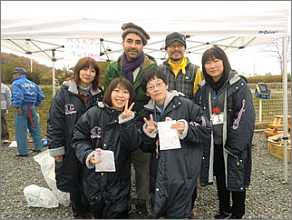 Although we didn't offer any curry at this event, we had a very fruitful day, and left feeling that we had contributed something.