2013.07.11 09:42
Curry Event at Iwate Prefecture Takada Hospital (07/10 2013 at Iwate Prefectural Takada Hospital, Rikuzentakata City, Iwate Prefecture)
On Wednesday, July 10th, we provided Tomodachi Curry® at Iwate Prefectural Takada Hospital free of charge to encourage the staff.
Takada Hospital lost all its functions including the ward with 70 beds from the Great East Japan Earthquake. A prefabricated temporary clinic was built after the Earthquake, but patients requiring hospitalization had to go to a prefectural hospital in the neighboring city Ofunato or to Morioka City. Later, a temporary inpatient facility was completed in Februay 1st, 2012 with a ward of 41 beds and an operating room. This temporary facility is the only general hospital in the city of Rikuzentakata, and has become an important institution in the lives of the residents.
Tahir from our Foundation has become close with Dr. Mikihito Ishiki, the former hospital director. We understand that Dr. Ishiki who is 65 years old has extended his retirement which was at the end of this March, and decided to stay at the hospital as one of the doctors. We prepared and held this curry event to thank Dr. Ishiki who has been working hard toward recovery, Dr. Kiyoshi Tabata who became the new hospital director this April, and the hospital staff for their efforts.
The preparation is the same as before, and we began the previous day in order to minimize the work to be done at the event site. We received assistance from the local residents in the preparation work done at Senmaya Minami Exchange Center. This time we had newcomers in the volunteering staff, but everyone worked actively and efficiently, and we were able to serve Tomodachi Curry® within the limited time available. We thank all those who had helped us.
Mr. Keishi Onodera, the president of the Rotary Club in Senmaya, again was generous to offer 14 kg of poultry free of charge, and Mr. Hideo Sato, the dairy farmer (Senmaya), who had supported us since we began our activities, collected 20 L of fresh milk early in the morning and provided this milk for the chai free of charge.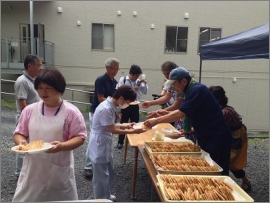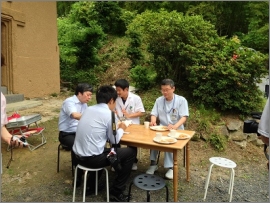 We heard that the hospital staff is comprised of 10 doctors, 40 nurses and 35 technologists, but including others such as the pharmacy staff, we provided approximately over 100 servings of Tomodachi Curry®. It was decided to serve curry from 11:30 to 14:00 since the outpatient department is extremely crowded. Many people requested additional helpings, and the venue was constantly filled with people. We brought trays with lids for people who cannot leave their workplace or those working nightshifts, which turned out to be very useful.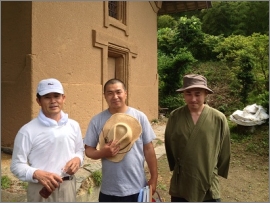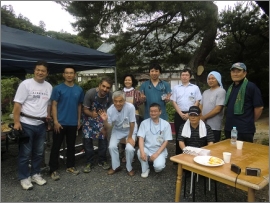 Everyone enjoyed their Tomodachi Curry®, and after the curry we served chai made with fresh milk. By the time we cleaned up the site and were ready to go, we received words of thanks saying "Thank you for organizing such a fun event", and we took a group photo. We had heard from Dr. Ishiki that everyone was looking forward to the curry event, and this was a happy moment we actually felt that they truly enjoyed it.